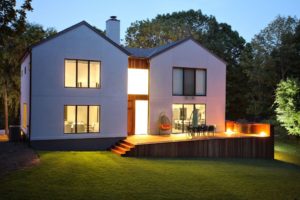 Britain is wonderful – we have defined seasons. OK, sometimes it's cold in summer and mild in winter – and it's always possible it's going to rain, whatever time of year it is – but some countries are envious of our seasonal or 'British' weather. There are pros and cons to fitting bifold doors in any of our seasons: spring, summer, autumn or winter.
Why you should fit bifold doors in the spring
A big advantage of fitting bifold doors in the spring is the weather is not usually too bad and you have the summer to look forward to – of enjoying your fabulous new doors. It's the traditional time when nature starts afresh, and we humans seem to take a cue from the spring bulbs and blossom around us. Of course, the Easter holidays with several Bank Holidays slow things up a bit, so do book early if you want your doors fitting now.
Why you should fit bifold doors in the summer
The summer is a great time to fit your bifold doors as the weather should be kind and this is the time you will be least physically affected by an installation. However, you may need to work around your own holidays. If you have children, you may prefer a time when they are at school, out of the way. Also, it's holiday time for everyone in the supply chain, so allowances may have to be made. It's a popular time for fitting and we get booked up quickly.
Why you should fit bifold doors in the autumn
'Season of mists and fruitfulness' is a very sensible time to fit your bifold doors. The kids are back at school, the weather is usually quite mild and the dark winter nights are a month or two away. It's our shoulder season; we are still quite busy but get less so as autumn progresses.
Why you should fit your bifold doors in the winter
The biggest advantage of fitting your doors in the winter is that few people will opt for this, so you are likely to be able to grab a slot easily. If it's very cold and frosty or there is heavy snow, we may have to postpone as apart from difficulties actually installing, we may have problems with our team getting to you as they all travel by road. But if it's just a bit cold, there shouldn't be a problem and you could have your doors in ready for Christmas.
Is there an ideal time to fit your bifold doors?
The short answer is 'yes' – fit them as soon as possible. The sooner you fit them, the sooner you can start to enjoy them and all the benefits they bring – extra light, extra enjoyment of your garden and all that fresh air at the flip of a door handle. Just bear in mind the possible constraints of the season. The whole procedure is very quick, and our fitters work efficiently, leaving no mess – just some gorgeous bifold doors that you will be delighted with for years to come.
Thinking of fitting bifold doors in your home?  Remember, we only fit the best – Origin doors. Find out why here. Do get in touch with us today to arrange for a complimentary site visit.
We fit bifold doors all over Surrey and London, including Woolwich, Vauxhall and Tooting.