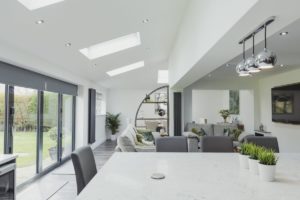 Origin bifold doors are some of the most technically advanced and innovative doors on the market. They use a lot of terminology associated with regular doors but some of the terminology can get confusing. Here at Your Price Bifolds, we have put together a glossary of terms.
Configuration: This describes the way your bifold doors are designed, including the number of leaves and whether they fold to the left or the right, and if the leaves stack on the inside or the outside. At Your Price Bifolds, we can design and configure your doors to suit your property and lifestyle. We can supply and fit corner bifold doors.
Thermal break: This refers to the technology that creates an insulated barrier between the inside and outside of the door frame and stops heat transfer between the two. Aluminium is a natural conductor, so Origin doors have a thermal break made from polyamide, a less conductive material that acts as a thermal barrier.
Threshold: Your door threshold is the metal covering that sits across the foot of the floor. Origin offers two types of threshold: A non-weathered threshold, when the track is almost completely flush to the floor and a weathered threshold, sometimes called a 'rebated' threshold, which has a small lip on one edge of the track. This is designed to offer extra protection against the weather.
Powder coating: This refers to the finishing and colouring process of our bi folding doors in which a dry powder is used and sealed to form a hard and durable coating. Our powder coating is environmentally friendly, durable, and consistent, so it provides a smooth and seamless finish. It also comes in a range of colours and finishes, meaning you can opt for the colour that you wish.
Secured By Design: This is a police-preferred standard that looks at the performance levels of all glazing, including doors. This means they have been tested and assessed against a certain level or criteria, so offer high resistance against possible potential break-ins. Our doors also meet PAS24 standard, ensuring our doors are less vulnerable to attack.
Sightlines: When referring to the amount of frame and glass you can see, this is called the sightline. It applies to the door profile that is visible when the doors are closed, as well as at the threshold and at the sides. Our aluminium bifolds offer some of the most minimal sightlines to maximise your natural light and views of the outdoors.
Traffic Door: This is part of the bifold door installation that acts as a traditional door. It's designed so it can be hinged individually so it can open and close with a handle, meaning you can open this single section of your bifold doors.
Finger-safe gaskets: Children can often get their hands caught in small gaps. These are child-proof spaces that provide cushioning so small hands cannot get trapped between leaves.
RAL colours: RAL is the industry's colour-matching system and is used in industry, architecture, and construction purposes. It defines the industry standards for aluminium coatings and there are over 150 colours listed on the chart. The most popular colours are black, white, and grey, but there are others, including woodgrain finishes.
If you are researching bifold doors, please call the team at Your Price Bifolds, and they will be delighted to tell you more.